You can get as detailed as you would like about eco-friendliness, and your kitchen designer will meet the level of sustainability that you want. If you are in the beginning stages of a kitchen update or remodel, then you need to look at sustainable kitchen options that can make a big difference. Kitchen interior design plays a role in the wider environment.
Reface cabinetry if possible
In most cases, refacing cabinets will create the same look you can get with custom cabinetry. Refacing will use less wood and help with spending. Due to the reinforcement process, the existing cabinets will have a more durable, stronger box. It is a great way to save money since the cabinets will cost less than half of what it would cost to put new ones in. Refacing the cabinets is an eco-conscious design choice. Not everyone is suited to take this path. You will need to determine if refacing is the right choice for you.
Choose Corian or Quartz countertops
Both of these products are more sustainable than granite is. The production of Corian and Quartz has a lower impact on mining than what is required for the granite. When you start to add maintenance-free features with the fact that they don't need sealants with toxic chemical bases it is a great option. It will also last a lifetime without chipping or cracking. For longer-lasting and a more eco-friendly choice, Corian and Quartz are the best choices for countertops.
Recycled materials
From the items that are recycled into the slabs of Quartz to the glass that is recycled to make glass tiles, there are so many ways to style your kitchen with materials that are manufactured with recycled ingredients. Try and keep recycled items in your mind when it comes to your décor choices. Repurpose and refurnish as many things as you can. You will be creating something unique without spending much money, and you are helping the planet earth in the meantime. Vintage and antique stores are great to browse for amazing furniture that will not damage the environment.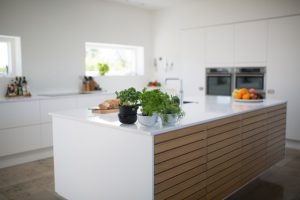 Create a timeless design
A part of sustainability is longevity. The more that you replace or re-do, the less sustainable the part becomes as it requires extra resources to manufacturer its replacement. The product may need more toxins to paint and seal it. You will need to also think about the fact you are using fuel to ship and transport the item to you.
When it comes to designing a sustainable kitchen, it will require a long view approach. You want a timeless design that is also comfortable, beautiful and functional, not only now but even in twenty years. Create a kitchen design that doesn't require extra work and replacement. Ensure that it is accessible for the whole family. When you buy appliances, and plumbing fixtures look for the ones that come with a WaterSense label to ensure they are eco-friendly.
Upgrading your lights
Add some dimmer switches to the lights which will allow you to adjust the wattage. You will decide when you want to have the lights on low and save some energy in the process. Better yet use as much natural light as you can for as long as you can.
Going green with small changes like the above will ensure you are making a big difference for planet earth. Imagine if everyone made the same small changes, it would make for a big result. Interior designs firms have options for this new wave of interior design. We must all play our part in reducing our environmental impact.